The healthcare provider profiling solution that does it all.
Outlier Insight benchmarks your provider's billing data against known audit triggers from government (CMS) and commercial payers.
By mimicking common payer data mining techniques, Outlier Insight allows compliance professionals to specifically target who, what and where they have the greatest audit risk exposure.
Analyze All Major Audit Triggers
Analyze every detail of your providers coding.
Outlier Insight gives you everything you need to analyze all aspects of a provider's coding. Whether you simply want to benchmark E/M Bell Curves or review Heart Catheter billing - it's all at your fingertips.

Evaluation & Management Services


High Dollar Surgical / Imaging Services

Time Practiced Medicine (OIG Time Study)


Medicare Total Payments & Payments per Patient

OIG / CERT Targeted Services

Sunshine Act's Open Payments Analysis
Easily find providers that under-code.
When the time comes to determine if providers are coding too conservatively and leaving money on the table, Outlier Insight makes it easy. Effortlessly access benchmarks that pinpoint where you need to conduct reviews that could increase billing revenue.
Peer Group has never meant more things.
Benchmarking and determining your audit risk exposure starts with understanding how your providers compare to their peers. With Outlier Insight benchmarking software platform, you have access to integrated peer groups that span the latest in Medicare data, your own network's data, and various other sources - all in one platform.
Compare your providers against same specialty national averages generated from Medicare data.
Compare your providers against same specialty state averages generated from Medicare data.
Compare your providers against same specialty averages generated from your internal billing data.
Compare providers side-by-side for any of the analytics available in Nektar.
Compare your providers against national / state averages generated from Commericial Payer data.
Commercial Payor Data (Coming Soon)
Compare your providers total accumulated Work RVUs against national expected values.
National Wrk RVU Benchmarks (Coming Soon)
View each provider's financial line item relationship with vendors via Sunshine Act's Open Payments database.
Sunshine Act's Open Payments
View each provider's Medicare Payments data via Medicare Utilization and Payments database.
Medicare Payments & Utilization



Empower your compliance team with a comprehensive list of every provider and the exact CPT that is causing audit risk exposure. Filter through your audit risk providers based on exposure type to create a strategic plan for medical record reviews.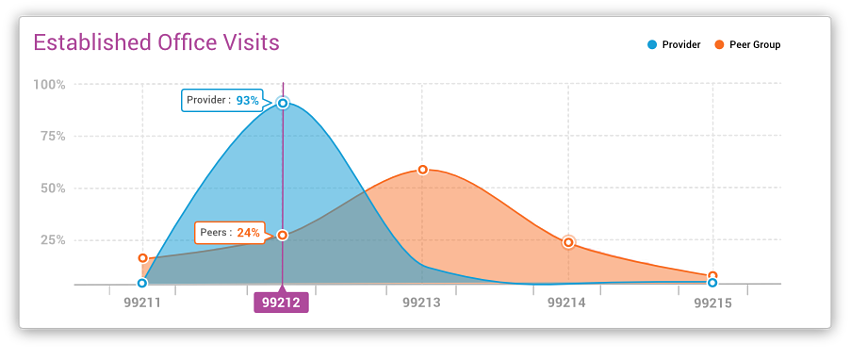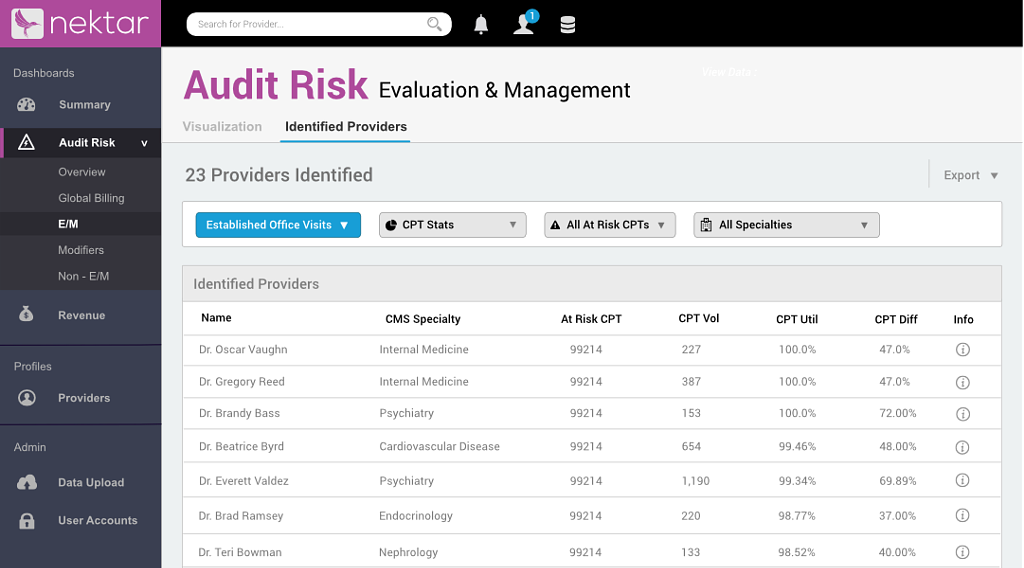 Pinpoint the exact services to review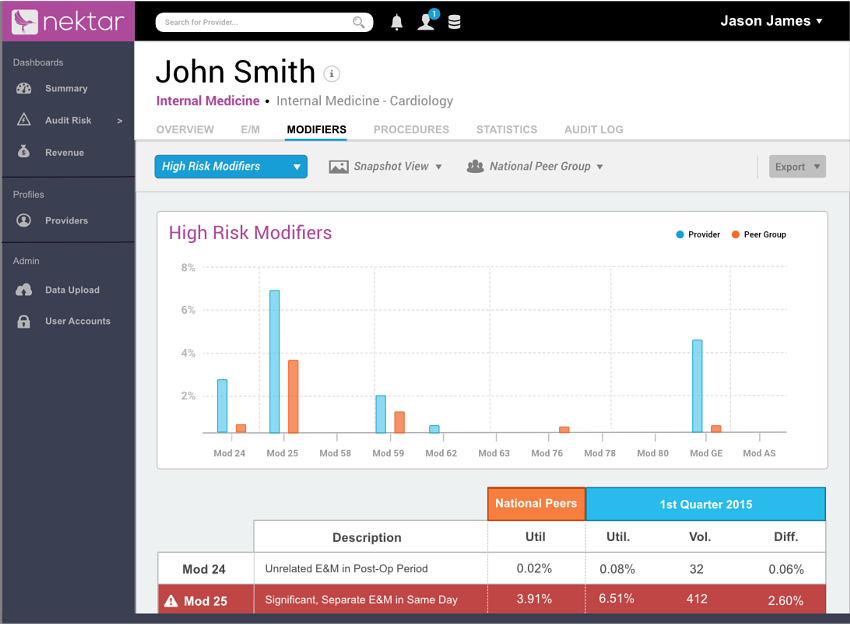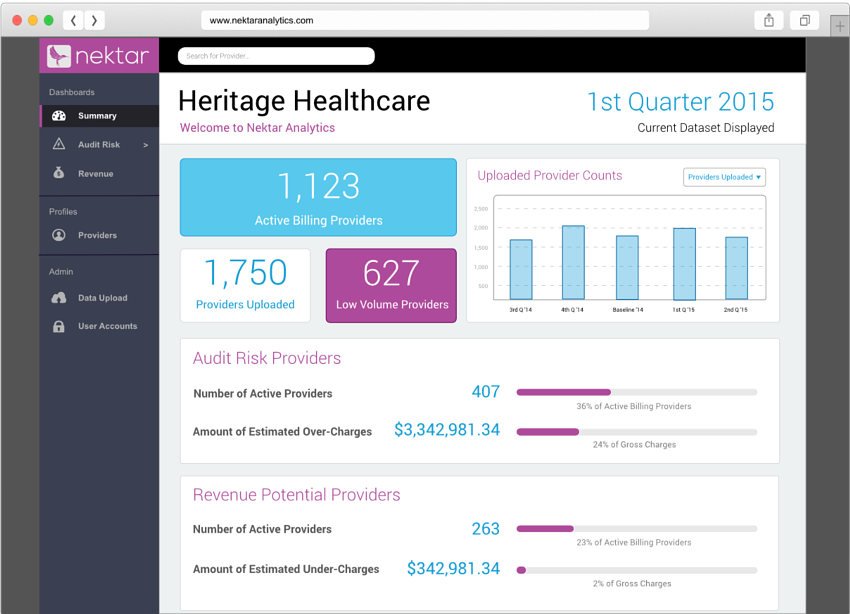 Flexibility to compare any way you want
You want to know how your providers compare against numerous different peer groups. But how do you quickly perform multiple comparisons to get the insight you need? Outlier Insight's flexible comparison engine allows you to effortlessly explore a variety of peer group combinations on a single chart. It provides the context you need to identify coding issues.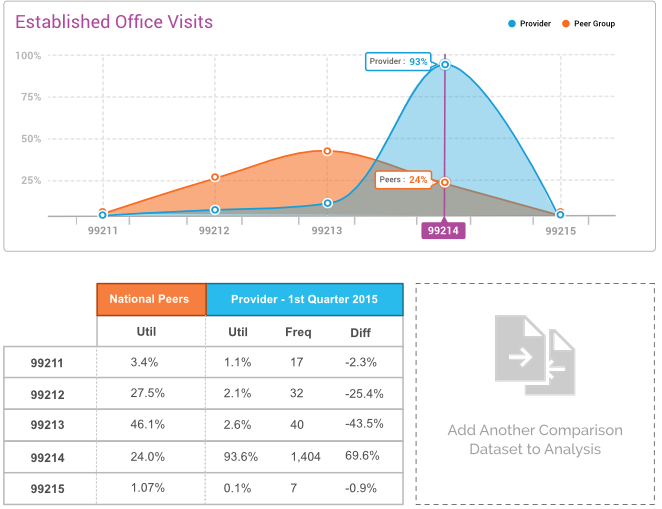 Instantly add these other data types to any analysis.
Add same specialty Medicare State data.
Add same specialty Internal Network data.
Add the provider's previous datasets
Add another provider's data.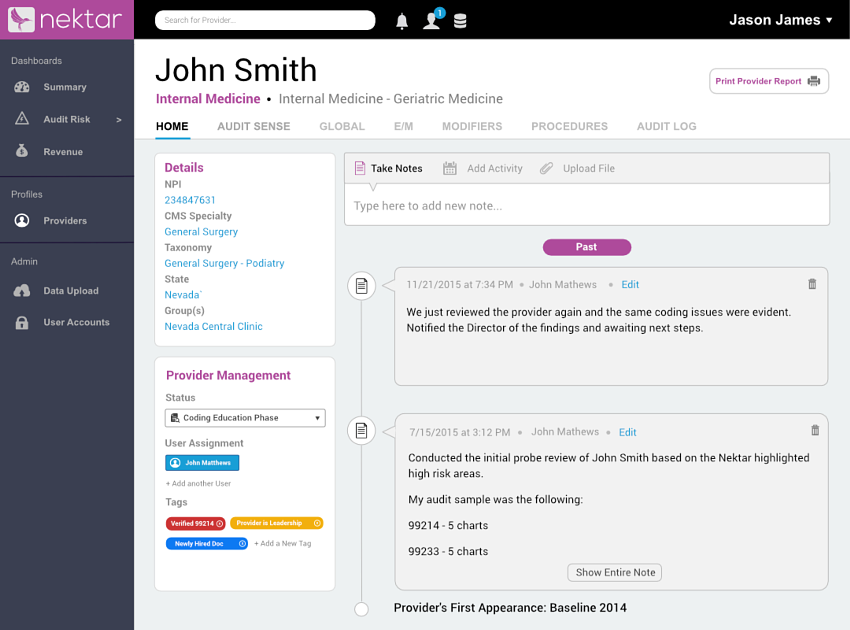 Get the most out of your benchmarking. With built in capability to take notes and custom tag providers, Outlier Insight helps make sure you stay on top of your providers and share information across your organization.
Interact with your benchmarking results



Take Notes on Every Provider
Utilize Tagging to Customize Findings
Designate Current Status in the Review Process
Easily add all relevant information about providers directly on their profile.
Create custom tags to indicate insight that is important about specific providers.
Indicate what medical record review stage that a provider is in.
Most business intelligence tools are very complex, requiring you to hire specialized talent to generate and customize reports that are critical to your daily operations. Because Outlier Insight is a flexible, cloud-based solution that includes a multitude of ways to generate the custom reports that you can use to assist in almost any business case.
Custom reporting taken to a new level
Complete Provider Report Card
Nektar Professional allows you to quickly export ANY of its data/analysis into excel for you to conduct additional investigation.
Nektar Professional makes its easy to share benchmarking analytics with your providers. Generate a comprehensive summary on their results with a click of a button.
Easily create custom PDF reports that include graphical charts, so you can share the personalized analysis with anyone in your organization.
Download a variety of reports from the Report Library to leverage Nektar's engine to create your own analyses.




Nektar Analytics offers training, education, and consulting to help compliance department's thrive and succeed with incorporating audit risk benchmarking. Whether you're a organization that is just starting out with analytics or a department that wants to take their benchmarking practices to the next level, we've got you covered.
We provide an unmatched amount of support.
Why working with Nektar is different.

An edition that fits everyone's budget.

No Implementation Charges
Unlimited Support & Consulting for Free
No Locked In Annual Service Contracts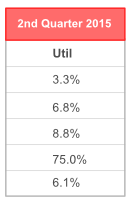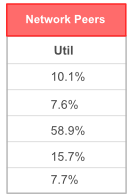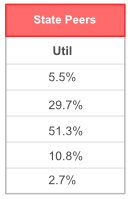 Plus Edition - $999 per month
Premiere Edition - Contact Us
Schedule a brief 10 minute call to find out more about how Outlier Insight users are reducing audit risk and how you can register our Free 2-month Pilot of our Premiere Edition.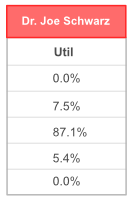 With the Leading Compliance Provider Benchmarking Platform

The Smarter Way to Find Your Outliers
Learn More about the Nektar Difference
Compare Outlier Insight Editions

Navigate through a sample provider analysis by clicking on the arrows to the left and right of the laptop below. Feel free to jump right in.
Tour our Provider Analysis